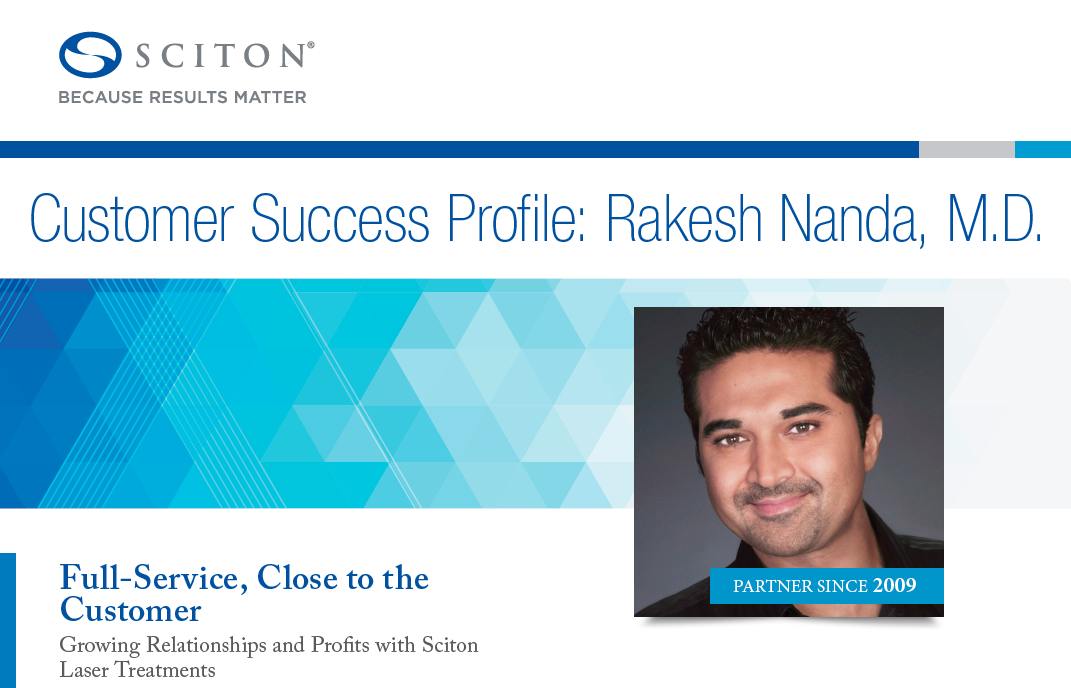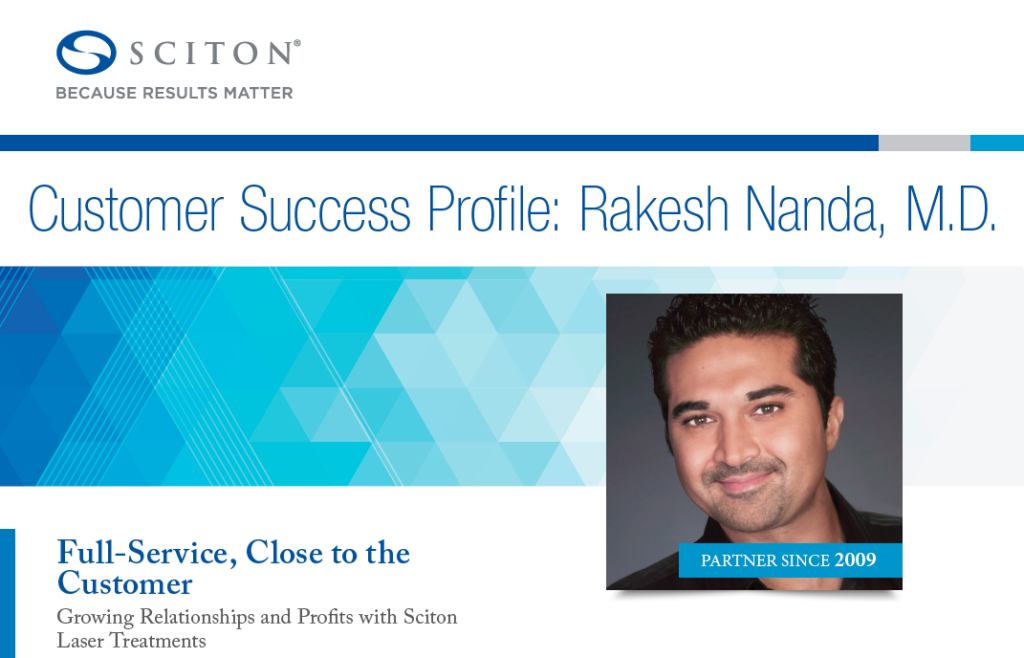 Summary
Dr. Rakesh Nanda founded the first Eternal Impressions, LLC location with a simple philosophy. He wanted to provide the best skin treatment services, delivered by well-trained professionals in a comfortable setting, and supported by outstanding customer service. It's been a successful formula. Using creative promotion and outreach through marketing events combined with reciprocal support from local business partners, Eternal Impressions, LLC has created four profitable locations providing broader treatment options to a loyal customer base.
Practice Overview
Eternal Impressions, LLC includes four locations around Columbus, Ohio. Founded by Dr. Rakesh Nanda, the facilities include a Med Spa, an Aesthetic and Plastic Surgery Center and two full-service treatment centers. The first clinic opened in 2009 offering BOTOX® and Sciton Laser Treatments. Over time, the practice has expanded to include broader Cosmetic Services, Body Contouring, Plastic Surgery and more. From the outset, Dr. Nanda has relied upon the quality, versatility, and innovative technology of Sciton lasers to build and expand his thriving business.
The Challenge
After the successful growth of his first location in Columbus, Dr. Nanda could see additional opportunities in the surrounding area. He wanted locations that would be convenient to customers and make return visits easy. More facilities would also allow an expansion of service and treatment options. He had already developed and tested a range of effective marketing approaches to promote his first clinic. The positive response of clients to Sciton laser treatments gave him confidence in the profitability of providing these sought-after laser treatments in new locations.
Growing the Business
Recruiting, Training, and Retaining Staff Of all the challenges involved with adding locations, Dr. Nanda knew that finding the right staff would be the most difficult, time-consuming, and important. Sometimes it was possible to get people who were already trained. "But sometimes you don't want people who are trained," said Nanda. "I'll often want to develop them myself. So, I'll look for an RN or an LPN just out of school. We'll put the finalists through a careful interview process that includes a day-long working interview. Then we hire them provisionally and send them to class to get certified on the target device. They will need to have treatments themselves. Then, only after several weeks working directly with my senior staff and me, will we let them loose." Once on board, the education process doesn't stop. Dr. Nanda allocates a generous training budget to keep staff current and learning new procedures. He emphasizes the importance of excellent customer service, attention to detail, and familiarity with the full spectrum of service offerings. "I also spoil them," said Nanda. "I pay them well. We celebrate birthdays and spend social time as a group. I want  them to be happy, and the result has been excellent retention."
Creative Marketing and Business Relationships
To build business at his first location, Dr. Nanda became a creative marketer. For example, he built reciprocal relationships with area businesses by providing their employees and customers with promotional discounts. That experience helped shape his roadmap for each new location. Just as he has diversified his services, Dr. Nanda has diversified his marketing and communications. "I wanted to try different things to see what worked best in my market," he said. "I found that magazines work well for us. Billboards, not so much." "The key," says Dr. Nanda, "is to try as many different communications avenues as you can afford. We've done ads in theaters, and offered discounts through Facebook, Twitter, Groupon, and Living Social. We have a media company that does TV ads for us. But, for the sake of our reputation, we're also careful to have trained staff answering the phones and ready to provide the services we're promoting." The business now has a full-time staff member responsible for marketing. She coordinates appearances at bridal shows, charity and golf events, or scheduled in-office presentations. Promotions through local business partners using discount offers have helped to get new clients and often lead to additional referrals. There's even an offer of lunchtime BOTOX® treatments that include sandwiches and drinks. And as new clients visit the office, the front desk staff is compensated for highlighting and selling additional types of treatments.
Financial Rewards
Taking advantage of the Sciton laser's versatility, Dr. Nanda uses every piece of it. "From skin resurfacing to laser hair removal to veins on the face and leg, to scar treatments, and blemishes, I can use the Sciton for everything," Nanda said. "My first Sciton covered my costs in the first six months without much profit. But the revenues built up quickly. My second Sciton was paid off in four months, and after that it was straight profit. With HALO, diVa, and BBL, a single laser can top $.5M a year. Easily."
What's Next
Dr. Nanda is in the process of building his relationships with cancer support groups, women's health groups and a network of OBGYNs to provide vaginal resurfacing using the Sciton diVa.