Vampire Facials In Columbus & Dayton
The term "vampire" is a misnomer. No, you won't leave the office looking like the undead!
On the contrary, the Vampire Facial will leave you with a refreshed, rejuvenated appearance – all by using the power of your own blood. It only takes 2 teaspoons!
If the term "Vampire Facial" sounds familiar, you can thank Mrs. Kim Kardashian West, who got the non-invasive Platelet-Rich Plasma (PRP) treatment done back in 2013.
The Vampire Facial combines traditional microneedling with topical PRP application to stimulate collagen production, diminish acne scars, reduce hyperpigmentation, and smooth fine lines and wrinkles.
The microneedling device creates surface-deep pricks in the skin, which naturally triggers your body to produce collagen and elastin. It also enhances the penetration of topically applied PRP to amplify skin rejuvenation benefits.
The Vampire Facial is best for skin resurfacing, and it can treat the following:
– Acne Scars
– Enlarged Pores
– Fine Lines & Wrinkles
– Dull Skin Tone
– Hyperpigmentation
Jiva Med Spa Is Certified By The Cellular Medicine Association To Perform Vampire Facials!
Watch Jiva Med Spa's Medical Director Explain The Science Behind PRP!
"A vampire facial is when we use microneedling to go over the skin to clean up pores and improve texture. I like to compare it to aerating your lawn to let it breathe and be natural. When we add PRP over that, we're also stimulating the cells to regrow and regenerate." – Dr. Rakesh Nanda M.D., Jiva Med Spa
Vampire Facial Before / After Photos: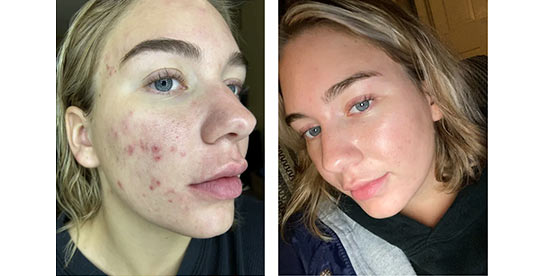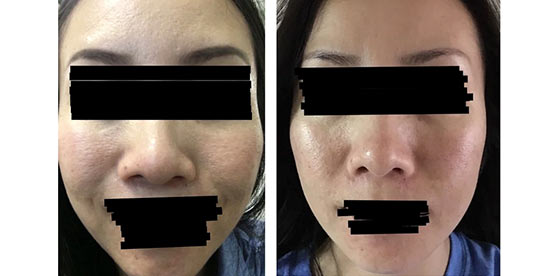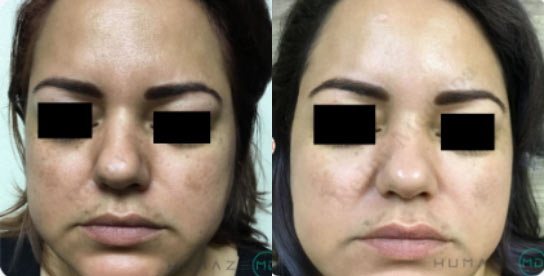 95% Of Patients Who Undergo A "Vampire Facial" Agree It's Worth It!
Now that I'm almost 50, I'm starting to see those fine lines and wrinkles creeping up. I found out that the Vampire Facial uses your own blood to rejuvenate your skin, so I finally gave it a try. After seeing the results, my husband said that he can see why I chose to do it. It's hard to believe, but in only two weeks after the Vampire Facial, I can see amazing results! – Real Self Review
My face feels like butter with generous amount of reductions in acne scar appearance. There is still hyper pigmentation, but I believe it's going to require more than just one treatment. I will be making this facial a part of my routine. My skin feels tight and I just want to touch my face all the time because of its softness and smoothness. – Real Self Review
LOVE LOVE LOVE the results from the vampire facial. I've had fillers and Botox but this procedure has my face glowing and looking fuller and more youthful than anything else I've tried in the past. I'm only in my late 20's and definitely don't need a facelift (as of right now), but I couldn't be happier with the results. – Real Self Review
NOTE: Reviews have been edited for length and clarity.
Frequently Asked Questions:
Are PRP treatments safe?
PRP treatments are an in-office, non-surgical, and non-invasive procedure. Unlike other injections, PRP contains no manufactured ingredients and is naturally produced by your own body. Because we use your own blood and only sterile, FDA-approved methods of administration, there is no risk for allergic reactions or infections with PRP treatments.
Who can get a PRP treatment?
Anyone with fine lines and wrinkles, hyperpigmentation, acne scars, or loss of volume can benefit from a PRP treatment, such as a Vampire Facial or Vampire Facelift. If you suffer from breast discoloration, rippling, or loss of nipple sensation, a Vampire Breast Lift can help. PRP treatments are ideal for patients with all skin types and tones.
Do PRP treatments hurt?
Prior to the quick and easy hour-long procedure, numbing cream is placed on the patient's face and/or breasts in preparation for microneedling and/or injections. Most patients report feeling little to no pain during the procedure, and downtime is usually minimal.
How soon do you see benefits?
Benefits such as improved skin radiance and enhanced breast cleavage are seen immediately and will continue to improve as the PRP works to boost collagen production, increase cell turnover, and enhance tissue regeneration. Most patients report optimal results 12 weeks after treatment.
Schedule A Consultation Today!
Want to try the Vampire Facial for yourself? Call us at 614-421-7546 (Columbus) or 937-705-9430 (Dayton) to schedule a consultation today!