SKINCARE SERVICES
At Jiva Med Spa, we offer a variety of skincare services in Columbus & Dayton that will help you achieve flawless, glowing, youthful skin after just one treatment.

Love The Skin You're In.
Whether you want to address dullness, acne, pigmentation, or just want to treat yourself to a relaxing facial, our skincare experts will be able to recommend a treatment that's best for your needs and will result in glowing, refreshed, younger-looking skin.
Featured Skincare Product Partners
skinbetter
skinbetter products offer an uncomplicated approach to skincare with amazing results. Jiva Med Spa is an Authorized Physician Partner. Browse their catalog of products today!
Shop Now
ALASTIN Skincare®
ALASTIN Skincare® is the fastest-growing physician-dispensed skincare brand, with innovative, scientifically proven and clinically tested products. Jiva Med Spa is an Authorized Physician Partner. Browse their catalog of products today!
Shop Now
Jiva Med Spa Skincare in Columbus & Dayton
Individual Treatments
Dermaplane Facial | $150
An exfoliating treatment that involves a fine blade, which gently removes peach fuzz and dead skin. Great for renewing complexion of dull, dry skin and removing buildup of oil prone skin.
Schedule a Consultation
Microdermabrasion Facial | $150
This skin rejuvenation treatment uses a mildly abrasive instrument to gently buff away the uneven outer layer of dead skin cells on your face, treating scarring, discoloration, sun damage, and stretch marks.
Schedule a Consultation
Chemical Peel 
This skin-resurfacing procedure involves the application of a chemical solution to the skin, revealing a smoother and younger looking complexion. This treatment is ideal for treating wrinkles, discoloration, and light scarring.
Schedule a Consultation
Basic Facial | $100
This treatment includes thorough cleansing and steaming of the skin, followed by exfoliation and extractions if necessary, a facial massage to relax and activate facial muscles, and a mask and skincare based on your skin type.
Schedule a Consultation
ZO 3 Step Peel 
This intensive peel uses a combination of Retinol and a triple blended acid to create a controlled peeling for resurfacing of the skin.
* must pretreat skin with retinoid six weeks prior for optimal results
Schedule a Consultation
HydraFacial
The HydraFacial treatment uses patented technology to cleanse, extract, and hydrate your face in just 30 minutes.
Schedule a Consultation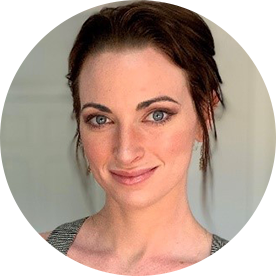 Meet Your Esthetician, Lillie
My name is Lillie and I am a Licensed Advanced Esthetician in the state of Ohio. I graduated from the Spa School in 2018 and I also graduated from The Center of Massage and Natural Health in North Carolina in 2015. I specialize in Dermaplaning, Microdermabrasion and Chemical Peels, as well as Lymphatic and Facial Massage Techniques.
My goal is to bring you the knowledge of how to treat your skin as well as the benefits of relaxation. With a yearning to understand the meaning of the deeper world around us, I believe that we all can change the world with the compassion we express towards every individual.
Read More
Show Less
There is beauty in our skin, beauty in relationships and beauty in process, and my goal is to guide you through that beautiful process and to treat your skin in the healthiest way possible.
-Lillie, Jiva Med Spa Esthetician

REAL TALK WITH DR. NANDA, MD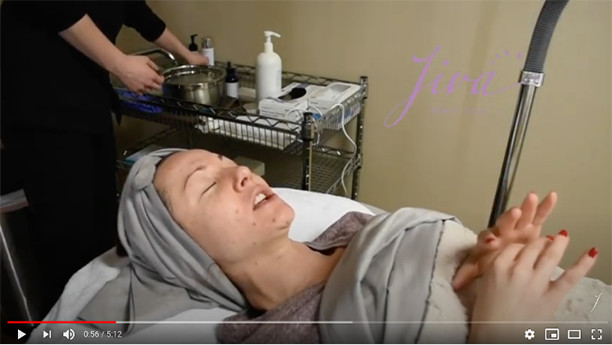 Real Reviews From Real Jiva Patients

My Whole Life Has Really Changed.
"I was feeling tired, I wasn't feeling like myself, and Dr. Nanda recommended hormone therapy. I've been doing it for 2 years and I've gotten great results. My energy has increased, and I have more muscle now. My whole life has really changed"
-Jane D.

Dr. Nanda And His Staff Are Top Notch.
"I've been going to Jiva Med Spa for approximately 3 years. Never have I ever been disappointed with the quality or care of Dr. Nanda and his staff. They are top notch! You won't be disappointed either. I highly recommend them"
-Vanessa F.

The Difference In My Before And After Photos Is Amazing.
"I initially came with the intention of only getting my tattoos removed, but Dr. Nanda has helped treat my melasma, as well. My tattoos are almost gone, which is great! But what I'm most excited about is that my melasma is 1000x better than it was before. The difference in my before and after photos is amazing."
-Emily C.

I Trust Dr. Nanda And His Staff Completely.
"I recently had several procedures done at Jiva Med Spa. Several facial procedures on my skin, and I was thrilled with the results. I trust Dr. Nanda and his staff completely."
-Jill F.

I Can Now Go Out In Public With No Makeup And Feel Confident.
"I was concerned about dark sun damage spots & broken capillaries on my face. I saw Dr. Nanda who effectively made them undetectable to the human eye. I can now go out in public with no makeup and feel confident. Additionally, Dr. Nanda used a laser on several facial scars I've had since childhood and the treatments resulted in dramatic improvements."
-Debbie S.

The Best Experience I Could Have Ever Imagined.
"Jiva Med Spa and Dr. Nanda was the best experience I could have ever imagined. I was so reluctant and afraid of looking "plastic or frozen." I wanted to still look like me but not tired and over tanned, lol. He took the time to listen intently to my fears and the result was amazing!"
-LeAnna R.

I Have Noticeable Changes In My Skin Complexion.
"I visited Jiva Med Spa a few weeks ago for a laser treatment and I must say, since the visit I have noticeable changes in my skin complexion. I look healthier and feel better about myself. Dr. Nanda was great and made every step of the procedure as simple as possible. I would definitely go back!"
-Gordon C.

The Results I've Received Go Above And Beyond.
"I've worked in the beauty industry since 2004 and I don't trust just anyone with my face. I've been a client at multiple aesthetic centers, and this by Jiva Med Spa is the BEST!!!! Not only is the staff there professional, friendly and accommodating, the results I've received go above and beyond what I expected."
-MeMe A.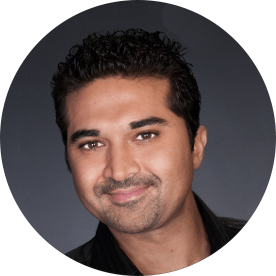 Meet Dr. Rakesh Nanda, Medical Director of Jiva Med Spa!
Dr. Rakesh Nanda is the Medical Director and CEO of Jiva Med Spa in Columbus and Dayton, and he personally interacts with every patient who walks through his practice doors. Although Dr. Nanda has an extensive history of traditional medical experience, his passion lies in helping people live beautifully through aesthetic medicine and therapeutic medical spa treatments.
Dr. Nanda has advanced training in dermatology and dermatological procedures, and he is fully certified and credentialed in advanced laser treatment of hair reduction/electrolysis, facial veins, facial resurfacing, tattoo removal, acne and rosacea treatment, and varicose vein treatment. In addition, he holds certificates in cellulite treatment and advanced laser liposuction.
Dr. Nanda completed medical school at the University of Sint Eustatius in Sint Eustatius, Netherlands, and finished all clinical rotations at George Washington University in Washington D.C. He completed his family medicine residency at St. Luke's Hospital and Health Network in Bethlehem, PA. Following his residency, Dr. Nanda served as medical director at NextCare Urgent Care in the Washington D.C. area.
Read More
Show Less
"I have always been passionate about helping people – not only physically, but also emotionally. I see beauty in all that I do, and it's my mission to empower my patients to live happy, healthy, confident lives."
-Dr. Rakesh Nanda M.D., Jiva Med Spa