Jiva Med Spa in Dayton, Ohio
Visit Jiva Med Spa at 4235 Indian Ripple Road, Beavercreek, OH for the very latest in skin care procedures, plastic surgery, and massage. We're here to rejuvenate your look, make you feel and look great, and improve your health with our complete holistic approach.
We use only the latest technologies to meet the needs of each of our clients on a personalized basis. All of these highly advanced technologies aim to offer the feeling of youthful invigoration that comes with the treatment.
All of the services that are offered at Jiva Med Spa Dayton are approved by the FDA, safe, practical, and helpful in restoring natural looks to skin and body parts that have taken negative effects through aging. The services are clinically accepted and performed with due care with the patient's goals for a natural looking appearance in mind. These specialized surgeries use technologies that are highly advanced, designed to revitalize and complement the body's natural processes and provide long-term and long-lasting solutions to physical deficiencies.
Many of these treatments are personalized after consultation so that the number of treatment sessions is minimized and that the physical aesthetics following the procedure are optimal for the client. All of these procedures require a thorough consultation to establish treatment goals and solutions, and optimize treatment for clients.
We always use the latest equipment and techniques. Notable differences between our treatments and others that have been the result of advancements in technology used include the use of PicoSure lasers instead of Q-Switched lasers for tattoo removal and Halo wrinkle reduction for wrinkles that were too shallow or too deep.
The plethora of surgical and non-surgical treatments that we offer are safe for all clients and the result of many years of research and practice. The documentation on both the problems and the techniques that are used to solve these problems is extensive. Most of the processes we use are non-surgical and non-invasive.
All of the problems that develop over time due to sun exposure, aging, hormone reduction, and other external factors have corresponding treatments and are expertly dealt with by our Registered Nurse (RN) and our well-trained plastic practitioners.
Services Offered at Jiva Med Spa in Dayton, OH
Get in touch today with Jiva Med Spa to discuss your particular needs and how we can help you in our modern facility.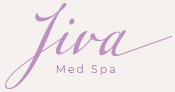 Office Hours
Jiva Med Spa – Dayton 
Monday: 10:00 am – 7:00 pm
Tuesday: 9:00 am – 7:00 pm
Wednesday: 4:00 pm – 8:00 pm
Thursday: 4:00 pm – 8:00 pm
Friday: 10:00 am – 2:00 pm
Every Other Saturday: 9:00 am – 7:00 pm
Sunday: Closed
Please call: 937-705-9430 to speak with a member of our team.
Follow us on social, and stay up to date here on how COVID-19 is impacting our current schedule.