Jiva Med Spa In Cincinnati, Ohio
Jiva Med Spa in Cincinnati, Ohio is located at 6404 Thornberry Court, Suite 430, in Mason, Ohio. We offer industry-leading products and procedures, and we're experts on all topics related to health, wellness, and aesthetics. From injectables and fillers to body sculpting and hormone therapy, Jiva Med Spa in Cincinnati can help you become a better, more beautiful version of yourself. 
Injectables & Fillers
As you age, your skin's natural production of collagen and elastin begins to slowly break down. As a result, you may notice more fine lines and wrinkles and a loss of elasticity, causing your skin to sag and look less radiant. Other factors can contribute to and exacerbate the aging process, such as excess exposure to ultraviolet (UV) light, a history of smoking cigarettes, and even family genetics. To help combat the formation of fine lines and wrinkles and a loss of elasticity, Jiva Med Spa in Cincinnati, Ohio offers a variety of FDA-approved injectables and fillers that deliver natural-looking, anti-aging results. Our team members are expert estheticians, and they will study the unique symmetry and structure of your face to ensure you get the exact look you want. At Jiva Med Spa in Cincinnati, Ohio, we offer the following injectables and fillers: Botox, Dysport, Jeuveau, Xeomin, Restylane, Revanesse Versa, and Juvéderm.
CoolSculpting & Z Wave
Although diet and exercise are important when trying to lose weight, sometimes stubborn pockets of fat persist despite all efforts. That's why Jiva Med Spa offers CoolSculpting, the world's #1 non-surgical, non-invasive fat reduction technique. CoolSculpting works by literally freezing and killing fat cells so they can be naturally eliminated by the body's metabolic system following each treatment. After just one CoolSculpting cycle, most people report a 20-25% permanent fat reduction in the target area. CoolSculpting is FDA-cleared for 9 different areas, and we'll work with you to determine a personalized treatment plan so you can reach your body goals. Jiva Med Spa is different than other med spas because we also provide a free Z Wave session with every CoolSculpting cycle to eliminate the painful "massage" aspect of CoolSculpting and enhance overall results. After a CoolSculpting cycle, the Z Wave machine will stimulate collagen production to increase skin firmness and enhance fat reduction.
Hormone Therapy
Hormones are natural chemicals that are produced by the body's endocrine system, and they send messages to various parts of the body so it can carry out essential functions. Hormones are important for many vital processes, including growth and development, metabolism, sexual function, reproduction, and even mood. Due to the natural aging process, hormones can become imbalanced; too much or too little of any hormone can majorly upset how the body feels and functions. At Jiva Med Spa, we offer hormone therapy from BioTE Medical to help our patients combat symptoms like difficulty sleeping at night, unexplained weight gain, anxiety and depression, decreased muscle strength, and reduced sexual desire and performance. Our BioTE Medical pellet products are subcutaneously inserted in a quick, painless procedure, then they dissolve slowly into the body, keeping hormone levels consistent throughout the day. After a few weeks of hormone therapy, you will feel like yourself again.
Get in touch with Jiva Med Spa in Cincinnati, Ohio to schedule a consultation today! Our phone number is (513) 834-1770, or you can contact us directly HERE.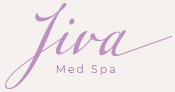 Jiva Med Spa Cincinnati
Phone: 513-834-1770
6404 Thornberry Court, Suite 430
Monday: CLOSED
Tuesday: 9:00 am – 7:00 pm
Wednesday: 9:00 am – 6:00 pm
Thursday: CLOSED
Friday: 9:00 am – 6:00 pm
Saturday: CLOSED
Sunday: CLOSED