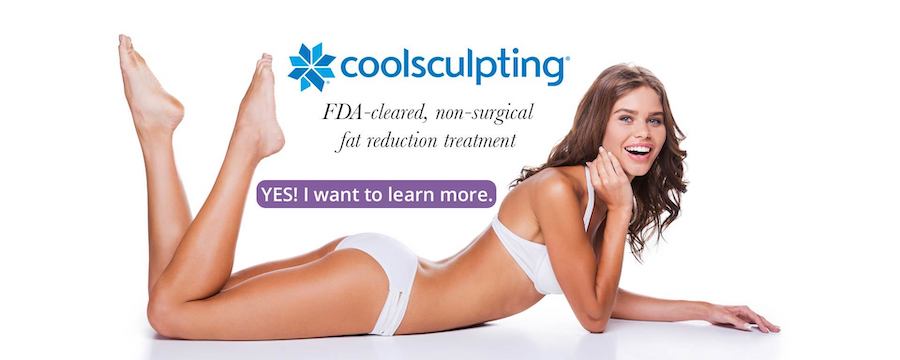 Coolsculpting at our Columbus & Dayton Locations
CoolSculpting is the world's number one non-invasive fat reduction technique and Jiva Med Spa offers it at both our locations, in Columbus and in Dayton.
The advantages are:
No surgery
No anesthesia (local or general)
Little or NO downtime to recover

The only FDA-cleared fat-freezing procedure for non-surgical fat reduction
CoolSculpting is a proven, effective procedure using controlled cooling to ensure you receive the proper treatment to help you reduce fat.  It is also a unique procedure that involves no surgery and little or no downtime to recover. CoolSculpting helps eliminate the stubborn fat that is hard to get rid of through exercise and diet alone.
With over six million treatments performed worldwide, this procedure is helping people everywhere reduce unwanted fat and helping people obtain the noticeable results and lasting improvements they want.

Is It For Me?
CoolSculpting has helped millions of men and women reduce and eliminate stubborn fat and bulges. It can make those love handles a thing of the past – no one really loves them anyway, do they?
Hate your double chin when you see yourself in the mirror? CoolSculpting is the solution for you.
How Reputable Is CoolSculpting?
CoolSculpting using innovative equipment to deliver controlled cooling to target fat cells under the skin layer effectively – without affecting the skin.
CoolSculpting clinicians are certified following in-depth training to ensure your safety. Only licensed professionals can perform the CoolSculpting procedure in a treatment room with the proper equipment. This ensures you receive the highest possible standard of care.
CoolSculpting uses unique technology that delivers super-cooling gently to the specific areas you want to target. Temperature sensors detect if the skin gets too cold and it will automatically shut down.
Does It Hurt? How Cold Does It Get?
CoolSculpting freezes the fat under the skin – the applicator delivers the cooling to the targeted fat area. At first, it may feel intensely cold, but as the area numbs this usually subsides within five to ten minutes.
Most CoolSculpting applicators use a vacuum to draw the target area fatty tissue into the applicator cup, so some people feel some tugging or pulling or some mild pinching.
What Is Treatment Like?
On your first visit to Jiva Med Spa in Columbus or Dayton, your CoolSculpting clinician will provide a one-to-one consultation. They will discuss your goals to reshape your body and the best holistic approach for you. With them, you will look over your entire body from many angles and the target specific areas for fat reduction using the CoolSculpting treatment together with a holistic program.
Your CoolSculpting clinician and you will consult together to draw up a treatment program customized for you and your goals. CoolSculpting has different applicators that treat different areas; these will be combined for use in your treatment program to give you the results you desire. You may even be able to achieve your goal in one visit.
Some people find that their customized treatment program includes a number of CoolSculpting sessions. If you have more than one area you want to target or if it is not possible to combine the areas, you can return for another visit. This means that muffin top and the fat from your inner and outer thighs can be gotten rid of to help you look great in your clothes. It is possible to treat different areas simultaneously.
The result is that working with your CoolSculpting clinician you can get the sculpted, contoured shape you want.
During your treatment, a gel pad with applicator will be positioned on the target area. Vacuum applicators are used to draw the target area fatty tissue inside the applicator cup that is used for the delivery of the controlled cooling. The applicators will be secured during the entire treatment to ensure that you receive the proper care.
During the treatment, you can read, browse the internet, check your email, or just chill listening to music, watching the TV or even taking a nap. Sit back or lie down – just relax as you rid yourself of that stubborn fat.
What Side Effects May Occur?
While you are receiving treatment, the treated areas are numbed by the cold. While it becomes numb, you may feel some intense cold, stinging or tingling. You may also feel some pulling, tugging or mild pinching, and sometimes some aching or cramping which subsides as the treatment area becomes numb.
After your treatment, you may have temporary symptoms as the numbness wears off that include redness or blanching, tingling, itching, stinging, tenderness, or aching. You might also have some firmness, swelling, or some skin sensitivity. After treatment around the neck area, you may have a feeling of fullness in the area at the back of the throat. These symptoms are temporary; these will dissipate gradually with a few days, though some may take longer.
In very rare circumstances, you may experience other symptoms not listed above. As you would with any medical procedure you consider, please ask your doctor whether the CoolSculpting treatment is appropriate for you.
What Aftercare Is Needed? Is There Any Downtime to Recover?
After treatment, many drive back to work or continue their planned activities in Columbus, Dayton or the surrounding areas. Because CoolSculpting is a non-invasive process, most find that they are able to cope with any side effects as the numbed skin returns to normal. In other words, there is no extended "downtime" for recovery.
*Treatment results depicted or described may vary and are not guaranteed.